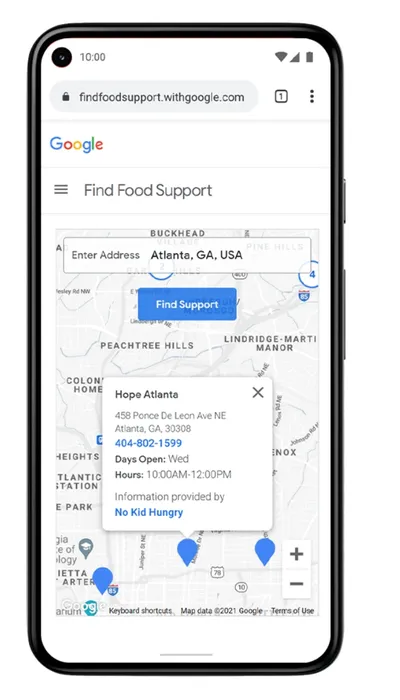 GOOGLE SITE
1 in 8 Americans will experience food insecurity during their lifetimes. If you're facing food insecurity, you are not alone, and Google has created this site to help you find community-based support.
LOCAL SUPPORT
Google created a locator tool that you can use to find your nearest food bank, food pantry, or school lunch program pickup site. To use the tool, enter an address into the search bar, and information for the sites closest to you will be displayed. If possible, call a location before you visit to verify the days/hours they are open and any requirements. If you can't find a nearby location, you may find support options in the additional food support resources list below.
Data on this map is provided by No Kid Hungry, USDA, and FoodFinder. 
United Way: Call 211 to learn about local food assistance options
USDA National Hunger Hotline: Call 1-866-3-HUNGRY to speak with a representative who will find food resources such as meal sites, food banks, and other social services available near your location.
No Kid Hungry: Text FOOD to 877-877 to find free, healthy 
To learn more about the McCauley Foundation, sign up below.